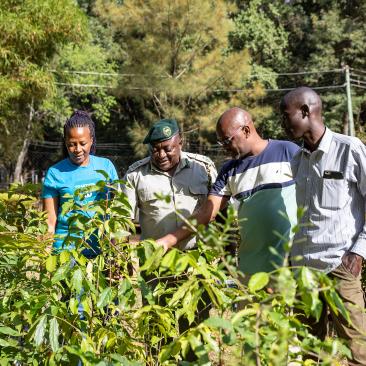 Data from the Kenya Forestry Research Institute shows that commercial forestry contributes 3.8% of Kenya's GDP, excluding charcoal and direct subsistence use.
Western Kenyan farmers are among the country's largest tree growers. For instance, farmers in Bungoma county planted approximately 5 million trees between 2012 and 2022.
Since 2018, FSC has partnered with the Western Tree Planters Association (WETPA) to help Western Kenyan farmers better manage their forests. WETPA is a local NGO with over 7 thousand farmers in Bungoma, Busia, Kakamega, and Trans Nzoia counties. WETPA empowers farmers by providing training and resources to protect and manage forests sustainably.
"We aim to support farmers in obtaining the FSC Group Forest Management Certification, which will increase the economic, social, and environmental benefits of their sustainably managed forests," stated Annah Agasha, FSC Eastern Africa Coordinator.
In the last two years, FSC has held four training workshops with selected farmers in Webuye, a small town in Bungoma county in order to facilitate the group certification process. The latest, held in February 2023 was the second training on FSC's Continuous Improvement Procedure (CIP). The training took place from 21 to 23 February 2023 and was attended by fifty smallholder farmers.
Launched in 2022, CIP is an innovative certification approach that allows forest managers to meet a subset of criteria. It also allows forest managers to complete an action plan for management improvements. The process simplifies certification journeys so forest managers can continuously improve their sustainability objectives.
Following the two-day CIP training, ten smallholders were selected and trained to use smartphones and multimedia to tell the story of their certification journey.
FSC International's Policy Manager, Jannicka Murphy, and Frida Salim, Eastern Africa Marketing and Communications Specialist, led this exercise in collaboration with UK -based media consultants, Jonathan Perugia and Phil Clarke Hill.
Since 2021, FSC's Community and Family Forests Programme (CFFP) has collaborated with the FSC Eastern Africa team to implement CIP.
"I am very confident that smallholders under WETPA will be the first in the world and in Africa to achieve certification using this fantastic tool—the CIP," Annah Agasha said.