Southern Africa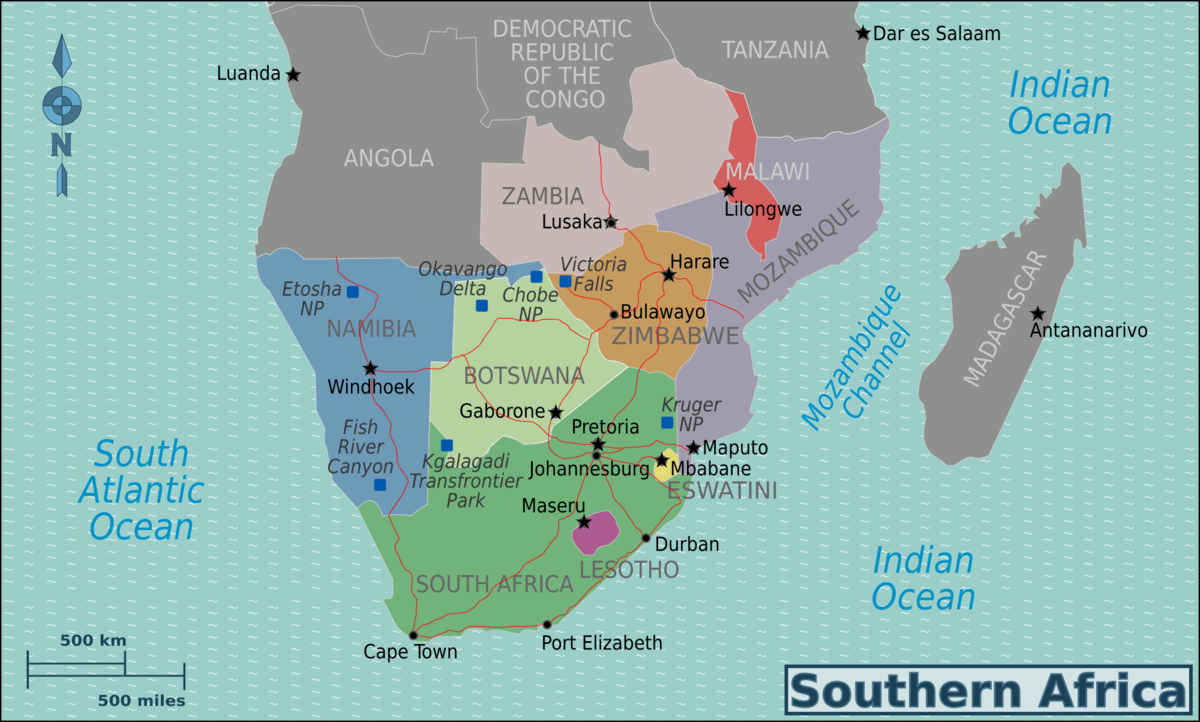 FSC Certification
FSC certification in South Africa is 24 years old, and the first Forest Management (FM) and Chain-of-Custody Certificates (COC) were issued in 1997.
At the moment there are 33 FM certificates covering timber, bamboo plantations and other forest landscapes.
The first National Risk Assessment and National Forest Stewardship Standard (NFSS) was fully approved in 2018 by FSC International. We have a NFSS in place for South Africa and Namibia, and Forest Management Standards for various countries in Southern Africa. Please contact us for more information.
This is the certification situation in January 2022: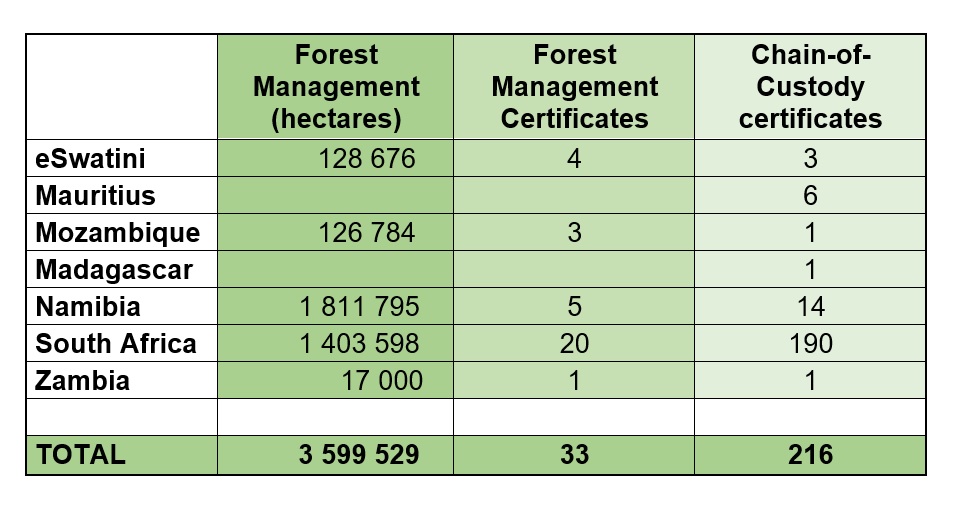 The State of Forestry in Southern Africa
Non-indigenous plantations have been grown in Africa for more than 100 years. The most common species are Eucalyptus, Pinus, Acacia and Cupressus. These trees are grown especially for construction timber and fuel, while in Southern Africa this timber also sustains a thriving paper and pulp industry supplying markets all over the world. Wood chips form certain Eucalyptus species are also exported to Asian and European markets.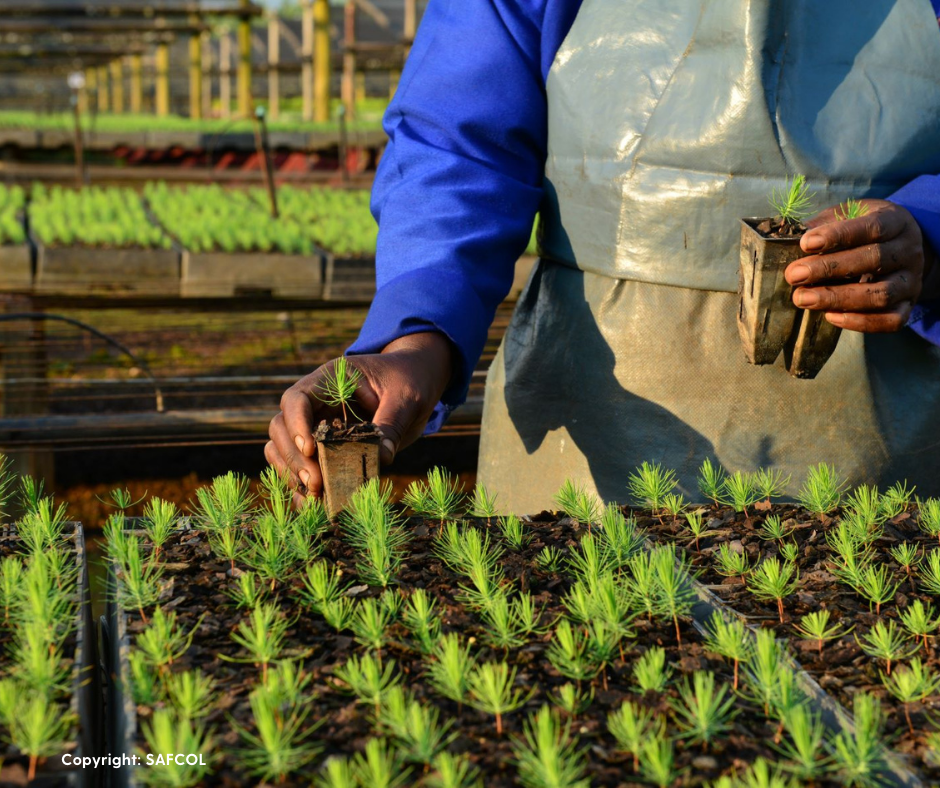 The area covered by exotic forest plantations is 2.3 million hectares of which 1.5 million hectares, or 66% of the sub-region's total forest plantation area is in South Africa.Three countries namely Botswana, Lesotho and Namibia do not have any real  commercial  forest plantations, except some woodlots, which were established for the provision of fuelwood and poles for general farm construction. (FAO).
In Namibia, FSC® certified charcoal and other biomass products are produced from the thinning clearing of indigenous encroacher and alien invasive bush and tree species which that harms the savannah habitat, of which significant areas are managed with the FSC Forest Management Standard.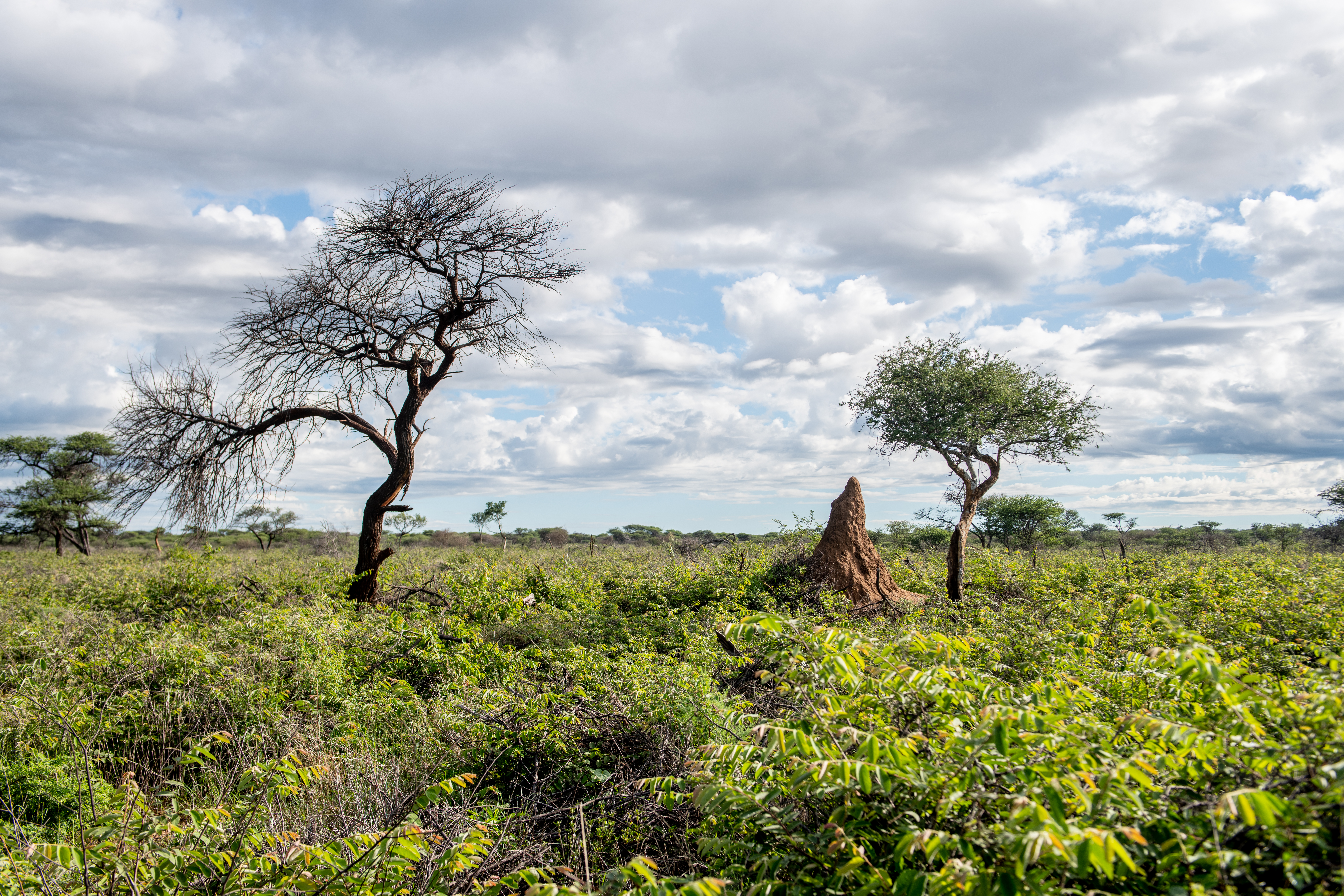 Southern Africa has a variety of natural forests or woodlands. In areas where rainfall is high and received throughout the year, tropical and subtropical moist forests are found. These are generally not as large as then  more widespread woodlands that are found in the drier areas. (FAO). In Mozambique alone, tropical forests and woodlands cover 34 million hectares, or approximately 43 percent, of the country's land area (World Bank 2018).
The Miombo ecoregion made up largely of the Caesalpinioideae sub-family tree species covers more than 3.6 million km2 across South Africa, Namibia, Angola, Botswana, Malawi, Mozambique, Zimbabwe, Zambia and Tanzania. The well -known woodland species are in this ecoregion are Wet and Dry Miombo, Mopane, Baikaiea, Acacia/Combtretum, Burkea/Terminalia/Combretum, Afromontane, Cryptosepalum and Itigi thicket. (FAO)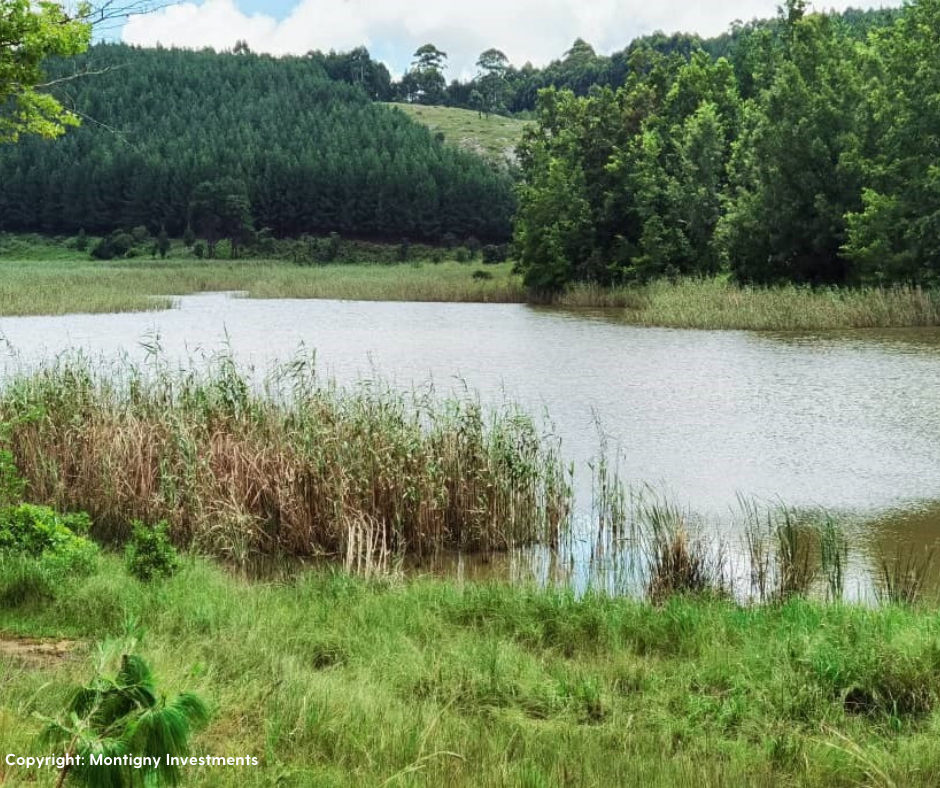 Find out more about Ecosystem Services
Showing the full value of forest ecosystems is fundamental to climate action. Ecosystem services claims are the
only certification solution that provides reporting on biodiversity, carbon, water, soil, and recreation, allowing the
full impact of sustainable forestry to be calculated and recognized. This enables partnerships to promote and
reward the protection of key ecosystems
Invitation to the Second Public Consultation: FSC Interim National Standard (INS) of Botswana Draft 1-2
Dear Forest Management Stakeholder in Botswana,
The Technical Working Group (TWG) for the development of the FSC Interim National Standard (INS) of Botswana has the pleasure to invite you to the Second public consultation on draft Version 1-2 of the Forest Stewardship Council (FSC) Interim National Standard (INS)  for forest management in Botswana. 
 This process starts from 14th January 2023  to 13 February 2023, at 17:05 Hours.
 The objective of this public consultation is to give stakeholders a final opportunity to provide input into the development of the INS of Botswana.
 Attached, you will find a Comments form, an extract of mandatory Adapted indicators, and Draft Version 1-2-INS of Botswana with all adapted and adopted indicators including Annexes.
 Instruction for submitting comments:
Kindly provide your comments in the Comment Form. For each comment, kindly provide the reference Indicator, Principle, or Annex. Then provide your comments (Your rationale or justification for a change) for each Indicator or the Annex

Provide your proposed change (Your suggested modifications, new wording, proposed sub-indicator, added verifiers, deletions, etc.)

Repeat steps 1 and 2 for any new comment you would wish to provide in each of the Indicators for the INS of Botswana. 

Submit completed comments to imalugu@gmail.com
 Thank you for your participation, we really value your opinion and look forward to reading your response.
Best Regards
Isaac Malugu
The Forestry Value chain
Consumers and societies expect businesses to be part of the solution when it comes to environmental and social issues. For any business associated with productive forests and forest products, working with FSC makes sense. We can help your business with improved efficiency, market access, meeting the UN Sustainable Development Goals, and more.
We have tailored solutions for different sectors, from furniture to pulp and paper. And we provide additional tools for businesses that choose to work with us, such as marketing materials to promote your collaboration with FSC. 
Please click on the following information graphics to find out more on each of these sectors
Please contact us for further information