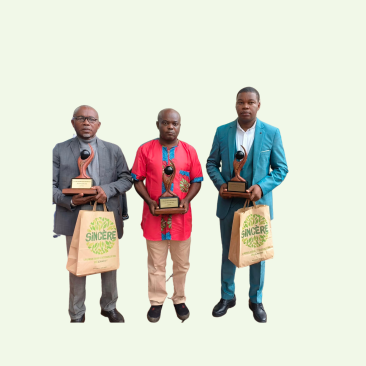 Launched during FSC Forest Week 2022, the  FSC Challenge is a special prize for the best investigative reporting on responsible forest management in the Congo Basin.
This first edition, which started in Gabon on 19 October 2022 and ended on 31 December 2022, was an opportunity to discover Gabonese talent, particularly in the fields of radio, television and the digital press. 
Last Tuesday, March 21, 2023, at the Ministry of Water and Forests of Gabon, on the occasion of the celebration of the International Day of Forests, we were able to discover the three exceptional stories of the three finalists of the first edition of the FSC Challenge 2022 prize.

The winners of the  FSC Challenge 2022 prize are: 
First prize: "Fil vert special sustainable forest management" by Danny Kouélé Tolé, Radio la voix de la Dola (Community radio)  
Second prize: "Gabon: how forest certification models sustainable forest management" by Michael Moukouangui Moukala, La Lettre Verte (Digital press) 
Third prize: "Ogooué-Ivindo / Makokou: sustainable forest management" by Benjamin Evine-Binet, Gabon 1ère (Television) 
This prize aimed to encourage investigative journalism on the most urgent concerns of our time, namely the protection of the Congo Basin forests and biodiversity in the fight against climate change.

"The project included capacity building for local journalists in data-driven journalism, ethical reporting and impact reporting," said George Akwah, FSC Congo Basin Coordinator. 
For this first edition, FSC worked in partnership with GSEZ and WWF Gabon, and the winners were selected by a jury of forestry and communication experts. 

In light of the success of this first edition, the FSC will continue this competition in the Congo Basin in 2023, hoping to train more journalists.
--
FSC Africa is supported by the Prince Albert II of Monaco Foundation - http://www.fpa2.org