Interview: Documentary Filmmakers Explain How Wildlife Thrives in these Gabonese FSC-Certified Concessions
Central Africa is home to the world's second largest tropical rainforest, which encompass over 240 million hectares of forested lands. Thousands of plant and animal species live within one of the largest tropical forests remaining in the world, thriving alongside local communities, Indigenous Peoples, and large and small forestry operations. These forests are vital for the future of our planet.
But due to rising threats from deforestation, forest degradation, and human-driven carbon emissions, these forests are rapidly weakening. As such, In 2018, the Government of Gabon declared that by 2022, 100% of the country's forestry concessions obtain FSC-certification.
Max Hurdebourcq has been conducting observation campaigns in the heart of Central Africa's forests for more than 13 years, and has long adovacted for peaceful coexistence between wildlife and logging concessions, so that both can maintain themselves in a sustainable way. He has been working in Gabon since 2006, and upon hearing the announcement from the Government of Gabon, set out to document the concrete benefits of certification on biodiversity.
Accomplished filmmaker Caroline Thirion has been working as a reporter and photographer in Central African since 2002, as well as a producer. Her work has won awards in the Nescafé Open Tour photography contest and the International Environmental Film Festival of Paris. The film, titled Forests to Save Humans, will be released at the beginning of 2022.
FSC Africa Communications Manager Nathalie Bouville recently sat down with Ms. Thirion to hear about how this project came about.

How did you hear about Max Hurdebourcq, and how did this documentary film project come about?
When GEDEON programs asked me to make a documentary film about Max Hurdebourcq and the fight he has been leading for over ten years to preserve the forests of Central Africa, I was immediately struck by Max's humility, his incredible career, but also his determination and his "wisdom, all of which make him an atypical and very inspiring character, in life but also in the image.
For years, Max has been travelling through these vast forest areas to observe the gorillas and to raise awareness among local people about their preservation. He fights for the coexistence of wildlife and logging to continue their activities sustainably. My first film "Mbudha, la source des chimpanzés" (52', Ushuaïa TV) - produced by GEDEON programs - dealt with the importance of preserving small forests and the chimpanzees that inhabit them, in the Democratic Republic of Congo, in 2018.  That's why producer Stéphane Millière thought it natural to ask me to direct this project.
So we met for the first time with Max during a meeting in Paris to get to know each other and discuss this film, which had already been in the pipeline for several years. And we met again a few months later, during the Adventure Film and Book Festival in La Rochelle, to write the first dossier on the film, to propose it to potential broadcasters.  
It was a long wait, but we got the support of Ushuaïa TV and TV5 Monde. The Belgian company Clair-Obscur Productions is also co-producing the film. And we also received support from the FSC Label and the ECOFAC6 program. Without this valuable support, we would not have been able to shoot the film in the same conditions. We are still waiting for answers from other possible partners.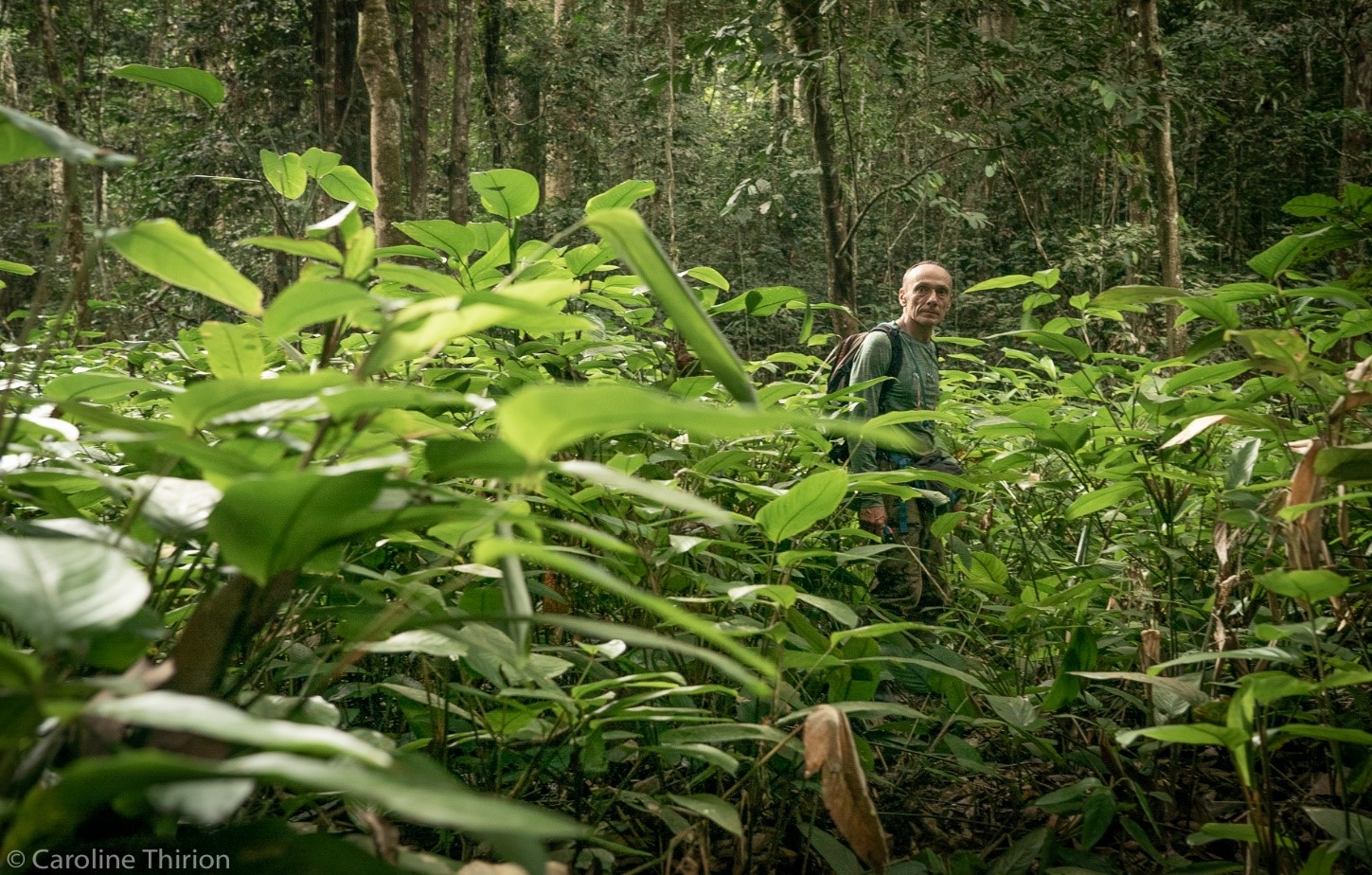 Why did you choose to come to the CEB Precious Wood forest concession in Gabon?
This choice was a natural one since it is within the CEB Precious Wood concession, and Max has been working with this company for 15 years in Gabon. It is there that he started to explore these forests, alone, in search of gorillas. He got to know Gorillas, whose behaviour he began to study during his long observation sessions in the woods and with the blessing of the CEB, which supported him in this project.
Max knows the nooks and crannies of these forests and knows where the clearings that gorilla communities living in these forests within the concession come to feed and rest. He has accumulated a great deal of knowledge about this understudied subspecies of gorillas in this region. So it seemed obvious to make this film there and involve CEB, an FSC-certified logging company, in this adventure.  And more broadly, to set this story in the specific environmental context of Gabon.
Moreover, the film tells the story of Max's last adventure there since he decided that this would be his last expedition through the outcome of his quest: the creation of a gorilla sanctuary within the concession. This is an area of 6200 hectares that the CEB has agreed to stop exploiting for timber, and which will thus serve as a refuge for the gorillas but also for all the other species present within the concession.
How did the preparation of the expeditions in the forest go?
The challenge for this kind of adventurous filming, which involves long walks in the wilderness and bivouacs lasting several nights in the forest, is to be as mobile and therefore as light as possible while being autonomous in terms of batteries and electricity.  And still, have the maximum amount of material and equipment available to make the film you want—a tricky balance.
The goal is also to be as discreet as possible during walks in the forest and to not to scare away the animals. This also implies not loading too much, remain mobile, and not making too much noise. I based this on my previous experience during the shooting of my last film in the Democratic Republic of Congo, where we were completely autonomous and roaming for 25 days in a row. This was undoubtedly good "training" for this kind of shooting and preparation.
The main thing was to work with Reflex cameras, capable of filming in HD and 4K, but whose bodies are more compact and lighter than traditional cameras, for an equivalent or even superior quality. We also had to equip ourselves with camping equipment (tent, sleeping bag, lamps, food, etc.) for the itinerant and bivouac parts of the adventure.
Were the shooting conditions not too difficult?
This adventure implied long walks in the forest and many hours of waiting to hope to meet and film the animals. The insects then take advantage of this to have a great time, in addition to the heat and the sun that is beating down. Moreover, as we were dealing with populations of wild gorillas that were not used to humans (unlike the gorillas that live in some other protected areas), and which - although fully protected - are unfortunately subject to illegal poaching, it is necessarily quite complicated to approach them without taking too many risks. So it wasn't easy to film them up close. It's the same for the elephants, we had to be careful not to get charged by them. And globally for the other animals present in the area (buffalos, snakes, for example).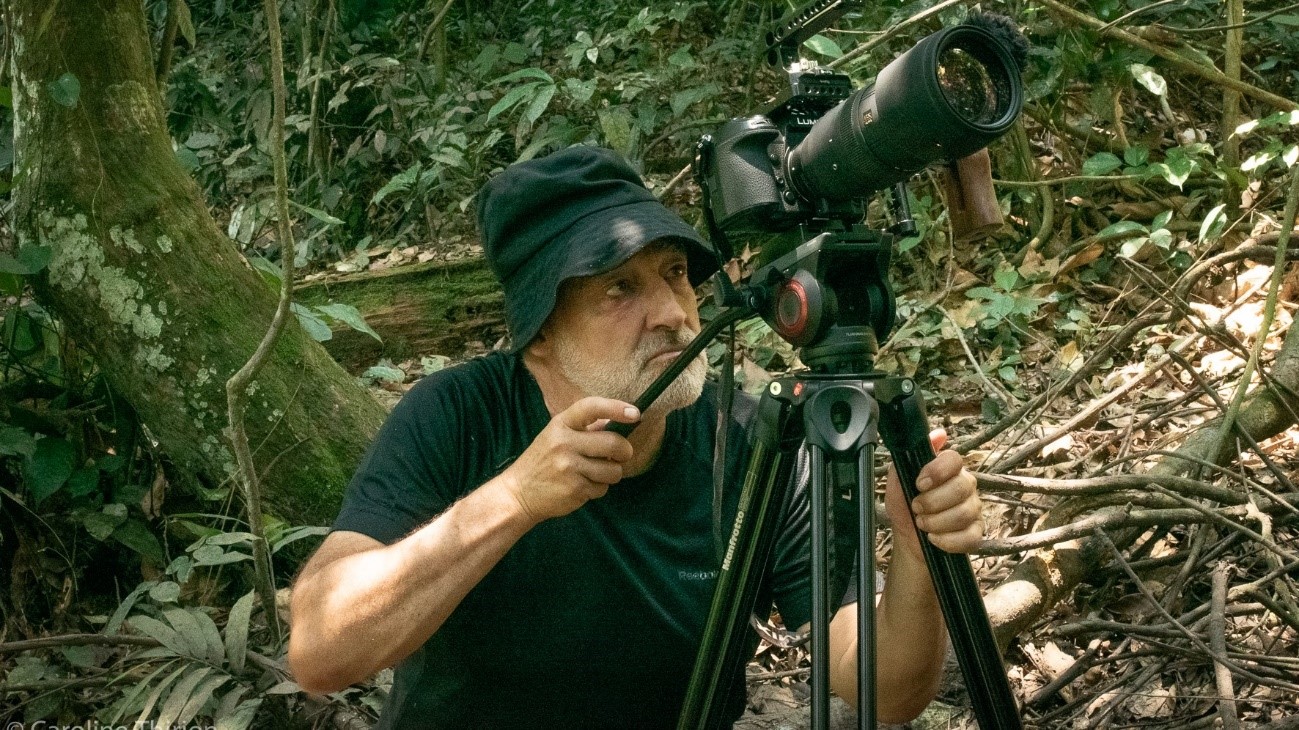 Once there, were you surprised by new and unpredictable situations?
This is the charm and hazards of a documentary based on reality and always reserves you surprises, good or bad, but which nourish and enrich the story in any case. I'm thinking in particular of this tree t
hat fell across the road, which prevented us from passing by car, and which we, therefore, had to cut down and clear with the means at hand to be able to return to the camp. We filmed this sequence and integrated it into the story as it says a lot visually about the obstacles to overcome in Max's quest and about his working conditions and those of the CEB workers.
The animals, unpredictable by definition, were also pleasant surprises: a panther whose fleeting glance we managed to capture, a mother elephant and her calf who came to drink in a clearing at nightfall. And other surprises that I have in store for the film.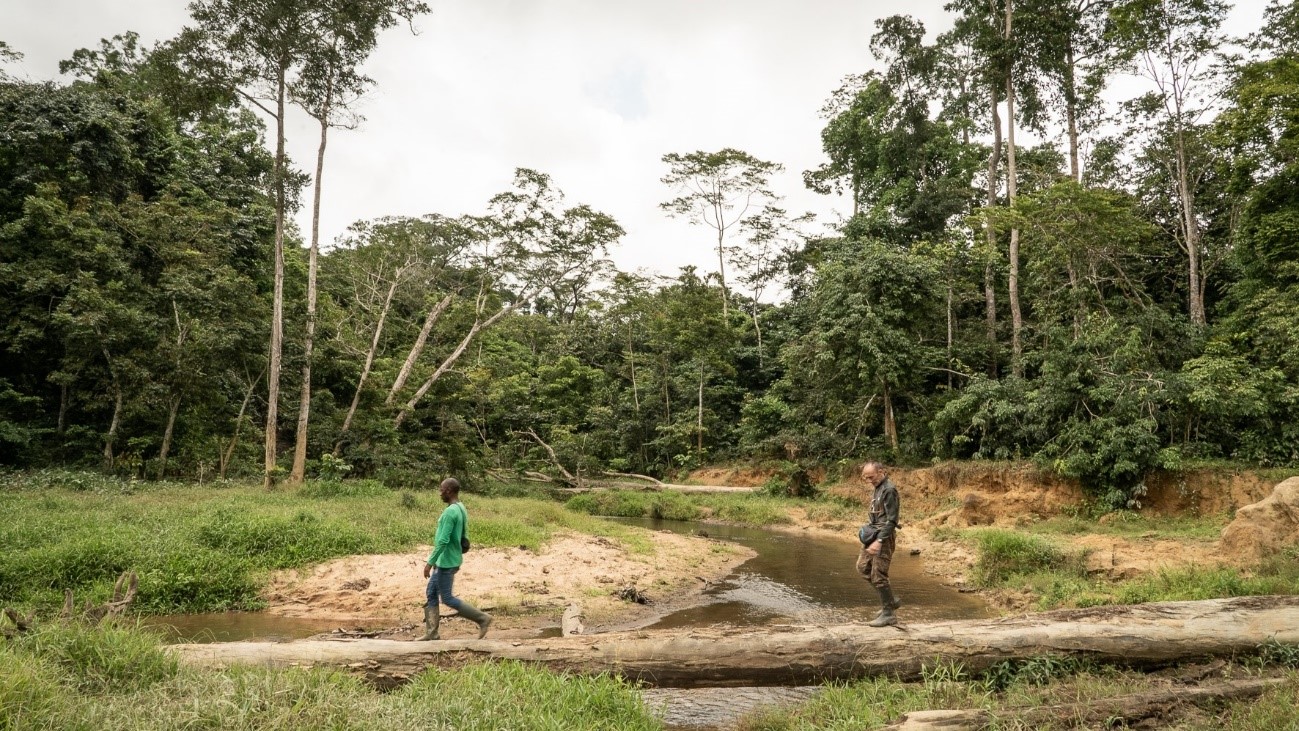 What are the next steps in the production of the film?
Now a new stage begins—that of the de-rushing and then the editing. We will assemble the images and sequences we collected during these 30 days of shooting to put the film in order. We will hand over the final version to our leading broadcaster Ushuaïa TV in early January 2022.  It is vital that the film is broadcast on television and widely shown in festivals, schools, colleges, forestry companies, and environmental associations. In Europe, and Gabon of course, we hope so. Max Hurdebourcq will accompany these screenings and will participate in debates and conferences that will take place around the film.
Because this film must be more than a simple window on what is happening in one corner of the world. It must participate in changing behaviours in Africa and internationally. In terms of the responsibility of consumers concerning the wood products they buy: these must come from sustainably managed certified forests.
Pictures ©carolinethirion and ©Maxhurdebourcq